What does Scala Hosting offer that is so unique from other WordPress hosting providers? When comparing Scala Hosting plans & costs with others online, you will quickly notice one thing that makes them stand apart from other web hosting: Web visits allowed per month. Web traffic is a big deal that can really make or break your website. 
As you scale while your website traffic spikes, it is important to have a web host that can handle this. Selecting the wrong web hosting packages can cause your website to crash and not be online when customer search for you. This is one area that I feel Scala hosting is very good at.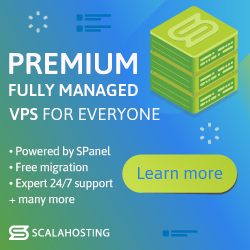 Web Hosting Plans:
Scala offers 3 shared hosting packages that are pretty easy to understand: Mini, Start, and Advanced.
These 3 shared plans range from $4.95/month – $11.95/month with web traffic allowances of 90k – 500k web visits per month!
Another plus about Scala hosting is that they allow you to host "unlimited websites" along with unlimited web space & bandwidth.
Mini Plan: $4.95/month, 10GB web space, 90,000 visits per month [Great for beginners to create a website]
Start Plan: $5.95/month, Unlimited web space, 150,000 visits per month [Most popular plan]
Advanced: $9.95/month, Unlimited web space, 270,000 visits per month, Free domain for life, Free SEO Analysis Worth $49
This is something unique that most web hosts do not offer for these price points. Most web hosts either give you unlimited websites with a specific GB allowance of web space. But you can get unlimited websites even with the 1st tier Mini!
The Start plan for only $5.95/month is the most popular of the 4 hosting plan. However, I think that if you are a beginner and creating your first website, the Mini plan at $4.95/month would be better deal for you in my opinion.

Additional Features of Scala Hosting:
Free Malware Scans

Professional WordPress Security

FREE SSL Certificate

1-Click WordPress Installation

Automatic Backups/Updates

FREE SEO Tools

Free CDN
What's Good About Scala Hosting?
For the costs, Scala hosting offers more value in the way of web traffic. Most web hosting has a certain threshold or cap off point of how many visits are supported per plan. For example, with Site-ground Startup plan, you only get 10k visits for $3.95/month.
WP Engine gives you 25k visits but cost a whopping $35/month! But again, Scala's Mini plan gives you 90,000 monthly visits for only 3.95/month! This one another aspect where they excel.
Also, Scala Hosting is like the only web hosting company on the planet that lets you create multiple websites with ANY of their plans. Most competitors only allow this on their 2nd and 3rd-tier plans which costs more than Scala hosting.
Great up time and performance are extremely important for your business being your customers will be searching for you online. If a website is down, you lose money. If your website is up, then you make money. It is that simple.
Scala Hosting Review Conclusion
In this review of Scala hosting today, you have learned all about what Scala hosting offers for shared web hosting. Their shared hosting is the most affordable that you will find for the high volumes of web traffic these packages support.
The bottom line is that if you are looking for a cheap web hosting provider that can handle lots of web traffic and offers more value upfront for your hard-earned money, then you should try Scala hosting today!